Gordon MacQuarrie - 1900-1956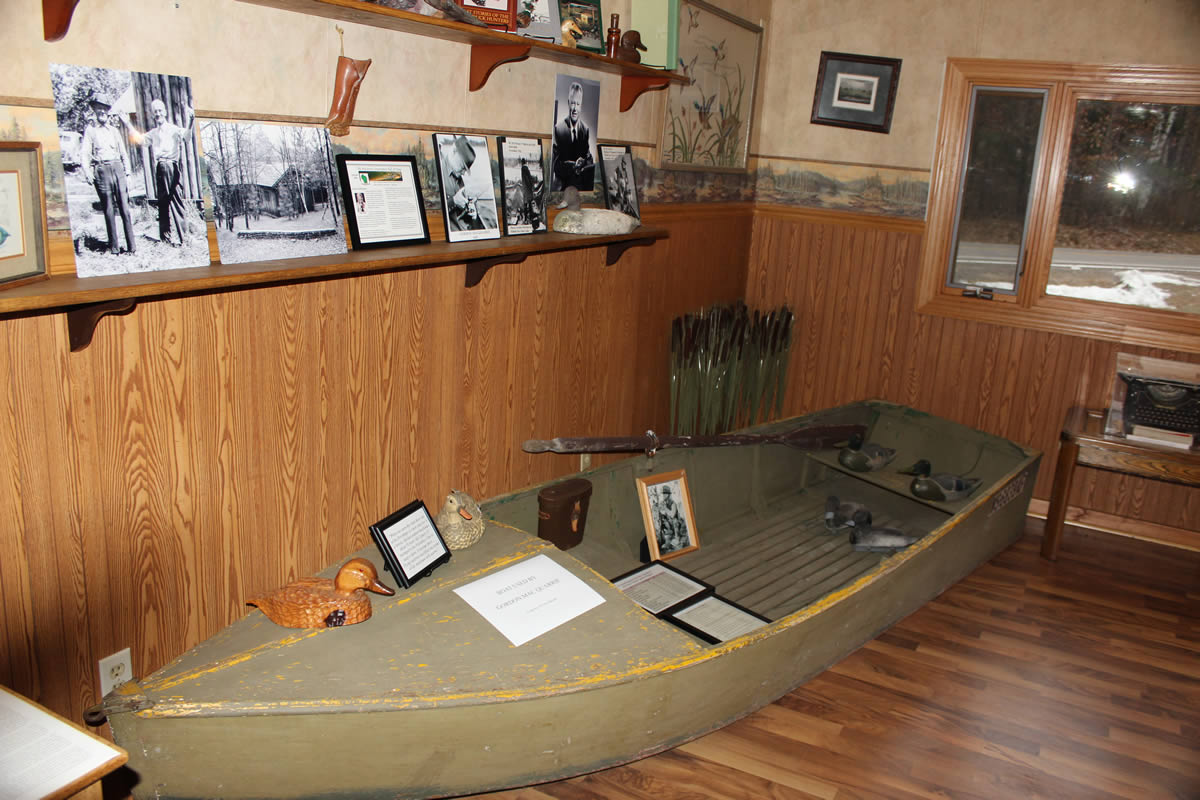 A Short History of Gordon MacQuarrie
Gordon MacQuarrie, was born of Scottish-Canadian parents and was raised in Superior, Wisconsin. He was a champion pole vaulter in high school and a drummer in a band during college years.
Following his graduation from UW-Madison in journalism, he became a cub reporter for the Superior Evening Telegram. He became its outdoors sports editor and managing editor until he joined the Milwaukee Journal in 1936 as it's outdoors sports editor.  He was the nation's first full-time newspaper outdoors sports writer and wrote popular columns entitled Right Off The Reel and Jack Pine Joe.
He wrote articles on duck hunting, fly fishing and grouse hunting conveying the deeply emotional, lightly humorous, and fundamental philosophical aspects of hunting and fishing. He affected readers so much his stories shaped their attitudes and lives.
He wrote Gertie The Duck during WWII gaining him international notice and fame and later, a mini-biography on Ole Evinrude. For the Carry-Lite Decoy Company, he wrote a duck hunting handbook.
He coined the mythical Old Duck Hunters' Association, Inc., using fellow hunters and fishermen as characters in his stories while writing from ODHA headquarters at his lake cabin on Middle Eau Claire Lake in Barnes, Wisconsin. His eccentric father-in-law, Al Peck, was his fishing and hunting mentor and entered his stories as "Mister President" and "Hizzonor" of the ODHA, Inc. Lake cabin neighbors became characters in his stories including dentist Dr. Patrick Tierney, best friend Paul Skamser, neighbor Oscar Ruprecht, and work colleague Bill Stewart.
He penned personal outdoors sports stories of trout fishing on the Brule River, Merengo River and Namakagon River, bass fishing on the St Croix River, and duck hunting and grouse hunting on the Eau Claire Lakes, Yellow Lake, Nancy Lake etc.
His second marriage took place in Mineral Point, Wisconsin, where Paul Skamser was his best man. Harry Nohr of Mineral Point became MacQuarrie's second Mister President of the ODHA, Inc. Mineral Point's pioneer artist Max Fernecke painted MacQuarrie in a skiff typewriting.
Today's sports writers describe him as one who could take "the type of hunting available to the common man and turn it into a setting of joy and grandeur"
He had an "uncanny ability to make us want to join him in that icy November duck blind watching canvasbacks and bluebills slash into the decoys".
He "probably could have brought a smile to your face or a tear to your eye if he had written about paneling his basement". A "masterful storyteller", he "described his duck blinds and hunting sites in terms of what those places could do for your soul". His award-winning writing style helped raise the level of the entire field.
He authored articles for national outdoor magazines as well as the newspaper, and his collected stories were compiled into books like Stories of the Old Duck Hunters and Other Drivel. MacQuarrie's contributions were cut short by a fatal heart attack at the age of 56.
He was the first communicator inducted into the Wisconsin Conservation Hall of Fame.
In 1993, he was named one of the 100 Distinguished Alumni of the University of Wisconsin- Superior.
In 1998, he was inducted into the National Freshwater Fishing Hall of Fame..
In 2000, the University of Wisconsin renamed a Douglas County wetlands the Gordon MacQuarrie Memorial Wetlands.
His MacQuarrie Foundation became part of the Wisconsin Academy of Arts, Sciences and Letters. The Wisconsin Academy of Sciences, Arts and Letters annually awards the Gordon MacQuarrie Award in his memory for "distinguished contribution to and achievement in environmental communication."
His biography was published by Keith Crowley in 2003: Gordon MacQuarrie: The Story of an Old Duck Hunter .
In a time when it was unpopular, he promoted causes of wildlife management,  conservation, and environmental sociology. He was the first journalist to fearlessly write about wildlife conservation issues being influenced by a friend, Aldo Leopold, author of The Sand County Almanac, and the contemporary writings of Sigurd Olson.
Although MacQuarrie's yarns were written more than a half-century ago, they continue to speak as eloquently of the joys and sorrows of the average duck hunter as any works of American sporting literature.
Books of Gordon MacQuarrie's full length articles and newspaper columns include the following:
Stories of the Old Duck Hunter and Other Drivel. Stackpole Company. 1967
Stories of the Old Duck Hunter and Other Drivel. Complied and edited by Zack Taylor. Commemorative Edition. A Reissue by Willow Creek Press, 1979
TRILOGY: More Stories of the Old Duck Hunters. Complied and edited by Zack Taylor. Willow Creek Press. 1983
TRILOGY: Stories of the Old Duck Hunter and Other Drivel. Complied and edited by Zack Taylor. A Reissue by Willow Creek Press, 1985
TRILOGY: The Last Stories of the Old Duck Hunters. Complied and edited by Zack Taylor. Willow Creek Press. 1985
MacQuarrie Miscellany. Complied and edited by Zack Taylor. Willow Creek Press. 1987
Fly Fishing with MacQuarrie. Complied and edited by Zack Taylor. Willow Creek Press. 1995
The Gordon MacQuarrie Sporting Treasury. Complied and edited by Zack Taylor. Willow Creek Press. 1998
Gordon MacQuarrie. The Story of an Old Duck Hunter. Keith Crowley. Wisconsin Historical Society Press. 2003.
Right Off The Reel. Select Columns from Milwaukee Journal, 1936-1956. Compiled and Edited by Dave Evenson, Barnes Area Historical Association. 2018
Dogs, Drink and Drivel. Select Columns from Milwaukee Journal, 1936-1956. Compiled and Edited by Dave Evenson, Barnes Area Historical Association. 2019